This picture tells all and unless you are still not sure, here are a few pointers.
What Is An ECA Program In SFI?
ECA is an eCommerce Affiliate program that enable you to promote your products or services to millions of shoppers around the world. By leveraging on the SFI/TripleClicks platform, you are promoting your own "shop" and assisted by thousands of SFI affiliates everywhere too.
It is a 100% FREE program to join and the listing of products on your TConnect Page, or your Shop, do not incur any expense. All you need to consider is the 15% "administrative fee" that TripleClicks will retain whenever you made a sale, this service charge covers the provision of a customized "Tconnect" website to you, multiple payment options for your customers, sales & order monitoring, Support and many other functions.
You have multiple ways to make money smartly using this eCommerce platform as shown on the picture above. Here's some commonly asked questions:
What is it?

How does it work?

How much does it cost to participate in this program?

How can I become an ECA?

What are the qualification?

and many others…
To understand more, click here to access all the questionaires.
If you already have a business or company that sells products or services then this program is definitely for you! It can be your gateway to your International market.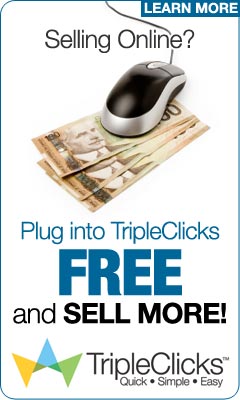 Why Wait? Just Click Above.
Example of TripleClicks ECAs
ECA Shop Name
Country
Product / Service
ECA Shop Name
Country
Product / Service
J&K Ladies Fashion's Store
Jasmine Jean, U.K.

Definitely Stuffs For The Ladies!

Ladies Fashion Clothings (119 items) Latest: Including Children Products!
Easy123Business
William Siong, Singapore
Quick Cash Generating Plan & Internet Marketing Technical Training Video (2 items)
Parker Nutrition Center
Charles Parker, USA
1,000s Quality Nutritional Products at reasonable pricing. (1658 items)
The Again Shop
Maine USA
eBook & Audio (795 items)
Carol Raeburn Jewelry
Carol Raeburn, Singapore
Simple to Bold Handmade Artisan Jewelry designed in natural gemstones, freshwater cultured pearls, glass, quality crystals, leather, base metals and precious metals (96 items)
Success's Resource
India
Jewelries, Traffic Generation, Internet Marketing Stuffs (690 items)
Heritage Shop
Saudi Arabia
Arabian Vases (3 items)
Art From The Heart
Serbia
Bride & Bridgegroom Stuffs Flowers & Personal Service (11 items)
Brian Watts
Brian Watts, Toronto, ON, CA
MUSIC Artist (7 Songs) Click Here To See How YOU Can Take Part In The Next MUSIC CONTEST!
MissDee
USA

Definitely Stuffs For The Ladies!

Books on Massage, Romance and Others
Lydia's
Serbia

Definitely Stuffs For The Ladies!

Costume Jewelries - Rings, Ear Rings etc (200 items)
Natsabelle Clothing and Cosmetics
Trinidad & Tobago

Definitely Stuffs For The Ladies!

Clothings, Shoes, Cap, Belts (555 items)
Unikat
Serbia

Definitely Stuffs For The Ladies!

Jewelries & Accessories (252 items)
Eshopping
Malaysia
Home & Electronic Goods (35 items)
Seaport Commerce
USA

Definitely Stuffs For The Ladies!

Winter Clothings, Summer Clothing, Shoes etc
Arabian Marketplace
Bahrain

Electronic Parts and eBooks (which is mostly at $2.99)


**For SFI Affiliates -- This is the best way to buy them before 10th of the Month and get your 25 Action Versa Point per ITEM so that it helps you increase your monthly VP earnings.
There are about 3871 ECAs who had joined the program and quite a number of them have set up shop like the one above to generate an income online. CLICK HERE to become an eCommerce Affiliate Today!
There are ECAs from about 165 Countries. Have you set up your eCommerce Shop to collaborate with those who are already active in your country? Or you could form your own Shop and be the unique one.
As you can see, whether it's old, new, digital or physical, for male or for female, you can literally sell ANYTHING you want. It is eventually your CHOICE whether you want to get involve with this or not! IF you want a shot at this 100% FREE Business, Start Today!
# Appreciate very much if you could leave a comment below so that my visitors can learn more from the exchanges.

Click here to read and understand more about SFI/TripleClicks Opportunity.

SPREAD YOUR LOVE!
Give someone some help or some hope by Inviting Them To This Blog.
If you know someone who could benefit from this blog - please tell them to visit MakeMoneySmartly.com. You have my permission to share with everyone and anyone you feel could use it, deserves it, value it, would benefit from it and could make a difference with it. Spread the word amongst those who want it, need it and would appreciate it. Please send the link in your newsletter, email message, share it with your fans and followers or give something back to your community. I sincerely thank you from the bottom of my heart and I love you!
Grab hold of a FREE eBook "Build Your Own Cash Pipeline" by recommending this blog to your Twitter or Facebook Followers? Click on the button below,

Facebook Comments
comments here