My involvement with SFI goes back 4 years ago when I was looking for an online Network Marketing Business Opportunity and my present Upline Leader had recommended it to me. Initially, I adopted a "look and see" attitude but within days, I was already working the program using the affiliate and eCommerce system available within.
Scroll To Bottom If You Prefer To Watch A Video Explanation. Else please read on,

Reasons for getting involved with the SFI Home Business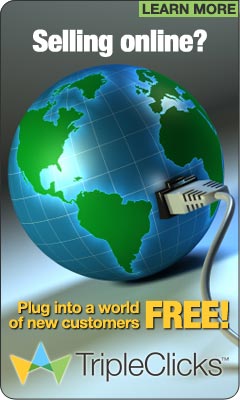 First, it is a 100% FREE business that allow ANYONE with legal age (usually 18 years old onward) in their country to become an affiliate with SFI/TripleClicks (US based company) to make money online.
When you join the program, you can take your own time to LEARN about the business and what it can do for you. Those FREE EDUCATION on how to run a business using the System Tools at the Backend is very comprehensive. You will realized that you can run an online business without the need to invest on an infrastructure from scratch.

Secondly, it is a Hybrid marketing system concept that combines Network Marketing practices, Internet Marketing practices and eCommerce using your user account. It has been around for 17 years and is already a proven and acceptable worldwide business today. You will find thousands of people joining the business as affiliate on a daily basis.

Thirdly, unlike the normal MLM businesses where cross-lining is not recommended, SFI system actually encourages you to become a co-sponsor of some other people affiliates so that you can help them to grow their business too.
This is only possible when you have proven yourself by becoming a Team Leader every month.
When you assist those Co-Sponsored Affiliates (CSAs) to work and grow their business, you gets a 15% commission from their personal sales or purchases (** Not their Group Volume!). Note: This are EXTRA income that you do not have in the first place!

Fourthly, you are not tied down with any monthly Purchase requirements if you don't want to! For the serious affiliates, having a monthly Standing Order is a sure and guaranteed way of qualifying for commissions or perks at the beginning of the month. Buying products to sustain or qualifying for my monthly Leadership performance is My Personal Decision alone, that means you can have your own choice too!
You might be wondering how much does it cost to "maintain" the position required, right? Well, for a completely NEW affiliate who just joined and have no downline distributor or affiliate,  their monthly Standing Order of about $36 will qualify them for whatever bonus or perks as an Executive Affiliate (EA) position. Bearing in mind that this is optional and voluntary. And when his/her business and organization starts growing, their monthly commitments becomes smaller and smaller until it is subsequently FREE. Why? Because their earning (gained from the bonus or perks) had already paid for it!

Fifth, You can start earning income immediately! No Certification obligation, No time-frame, No age limit etc. Better still, there are no restriction on how much you want to earn! The ONLY requirement is you work the program according to what is taught when you logged into the Backend Office.

Sixth, You can sponsor anyone from any country as long as SFI is available in that country PLUS you get commissions paid to you via Payoneer Mastercard, Check, Paypal and some other payment processors. You can have affiliates joining you from India, Philippines, Nigeria, Indonesia, United States, Serbia and almost every other countries in the world!

Seventh, It is FUN! Especially the auctions and Eager Zebra games at TripleClicks! Your adrenaline will flow but, of course, you must restraint yourself from getting addicted. I had even won auction for less than 20 cents as well as winning FREE credits from Games without forking out any money.
Eighth, The thrill of  getting people to buy products from TripleClicks (88,000 or more products) is like you own an "e-supermart" of your own. You are also encouraged to find people or businessmen to join the ECA (E-Commerce Affiliate) Program so that they can do their garage sales or sell their products such as electronic goods, clothing's, jewelries, artifacts and other exciting or unique products too. They can join for a fee of $40 and create their own TConnect Page or Digital Store that will showcase their merchandise.
Here's a peak at my progress so far in the business,

It is my hope that these information are useful to you so that you will want to build a successful home business by leveraging on the SFI & TripleClicks platform. Join and Connect with me today! Learn how to make money smartly using sound judgment on your part and embrace this unique and growing SFI business opportunity!
[covertplayersinglevideo trvideoid="cKhIjaL_i3Y" trdisplaytype="2″ trnumbervideosdisplay="" trvideoperpage="36″ trthumbnailwidth="200″ trthumbnailheight="125″ trpopupwidth="500″ trpopupheight="350″ trvideoalign="center" trytautohide="1″ trytautoplay="0″ trytcontrols="0″ trytrelvideo="0″ trytshowlogo="1″ trytshowtitle="0″ tryttheme="dark" trythighquality="hd720″]
Perhaps your confidence level will increase when you read what others are saying about SFI. Click on the picture below.
# Please do not hesitate to provide any comments or suggestions so that the information provided here will be as accurate as possible for the well being of the visitors here. Have a wonderful day! 😀
Please continue to read  …

More About SFI/TripleClicks Business Opportunity
"My age is 50 or more, can I do this?"
Active Search Results (ASR) is an independent Internet Search Engine using a proprietary page ranking technology with Millions of popular Web sites indexed.
# Leave a comment, if any, about the topic above. Thank you in advance for your for your kind effort!
Facebook Comments
comments here